[ Premiere November 2019 ]
2022
27 et 28 janvier : Le Triskell, Pont L'Abbé (29) - Option
30 janvier : Ville d'Orvault (44) - Option
7 avril : L'Atelier Culturel, Landerneau (29) - Option
2021
29 janvier : Espace Lino Ventura, Garges-les-Gonesse (95) - Annulé cause coronavirus
5 au 7 février : Cirque Théâtre d'Elbeuf (76) - Maintien le 5 à 15h d'une représentation pour les professionnels, 6 et 7 annulés cause coronavirus  
19 février : Théâtre de l'Hôtel de Ville, Saint Barthélémy d'Anjou (49) - Annulé cause coronavirus
9 mars : Théâtre Fil de l'eau, Pantin (93) - Maintien à 15h d'une représentation pour les professionnels + captation diffusée à 20h
11 et 12 mars : Cirque Jules Verne, Amiens (80) - suivi des Jeux du Cirque du 15 au 20
23 mars : L'Eclat, Pont-Audemer (27) - option
2 et 3 avril : CDN de Normandie-Rouen, Théâtre de La Foudre, Petit Quevilly (76)
6 et 7 avril : Les 3T, Châtellerault (86)
9 avril : La Genette Verte, Florac-Trois-Rivières (48) avec La Verrerie d'Alès, Pôle National Cirque Occitanie
14 mai : L'Eclat, Pont-Audemer (27) - option
16 avril : Espace Sarah Bernhardt, Goussainville (95)
30 avril : L'Atelier Culturel, Landerneau (29) - Option
11 mai : Centre Culturel L'Imprévu, Saint-Ouen-l'Aumône (93)
18 mai : Théâtre Foirail, Chemille-en-Anjou (49)
20 mai : Le Champilambart, Vallet (44)
22 mai : Communauté de Communes Seignanx (40)
4 juin : Centre culturel Athéna, Auray (56)
8 ou 9 octobre : Espace 93, Clichy-sous-Bois (93)
2020
6 et 7 février : Centre Culturel Pablo Picasso, Homécourt (54)
13 février : La Faïencerie, Créil (60)
3 et 4 mars : Communauté d'Agglomération La Porte du Hainaut (59)
6 mars : Espace Culturel de La Hague (50) - dans le cadre du festival SPRING
12 mars : CDN de Normandie, Rouen (76) - dans le cadre du festival SPRING
13, 14 mars : CDN de Normandie, Rouen (76) - dans le cadre du festival SPRING - Annulé cause coronavirus
22 mars : Festival Up!, Bruxelles (Belgique) - Annulé cause coronavirus
27 mars : L'Eclat, Pont Audemer (27) - Annulé cause coronavirus
6 avril : Roubaix (59) - Annulé cause coronavirus
12 mai : Quai des Arts, Argentan (61) - Annulé cause coronavirus
26 mai : Théâtre Fil de l'eau, Pantin (93) - Annulé cause coronavirus
1 octobre : Communauté de Communes Ernée (53)
3 octobre : Trio-s Théâtre, Inzinzac-Lochrist (56)
9 octobre : Ville La Riche (37) - Annulé cause coronavirus
3 novembre : L'Eclat, Pont-Audemer (27) - Annulé cause coronavirus
10 novembre : Centre Culturel L'Imprévu, Saint-Ouen-l'Aumône (93) - Annulé cause coronavirus
24 novembre : Espace 93, Clichy-sous-Bois (93) - Annulé cause coronavirus
26 novembre : L'Atelier Culturel, Landerneau (29) - Annulé cause coronavirus
29 novembre : Ville d'Orvault (44) - Annulé cause coronavirus
2 décembre : Centre culturel Athéna, Auray (56) - Annulé cause coronavirus
4 décembre : Théâtre Foirail, Chemille-en-Anjou (49) - Annulé cause coronavirus
6 et 7 décembre : Les 3T, Chatellerault (86) - Annulé cause coronavirus
10 et 11 décembre : Le Carré Magique, Lannion (22) - Annulé cause coronavirus
2019
15 novembre : Théâtre Charles Dullin, Grand Quevilly (76)
21 novembre : Le Rayon Vert, Saint Valéry en Caux (76)
26 novembre : Le Piaf, Bernay (76)
28 novembre : Centre culturel L'Illyade, Sessynet Pariset (38)
"Ideally we should never construct our lives…
We should keep the passion of our first times forever
We should be happy to make the same mistakes,
And stay eternal idiots – hyper-aware, agile, and spirited
Perfect, glorious and radiant idiots".
Ronan Cheneau
ETERNAL IDIOTS is a new work about today's teenagers created while working in middle schools.
It is the result of direct contact with students' everyday lives, cultures, and concerns.
Our own lives, and our relation to what is universal, were thrown into relief by this intense immersion into the lives of young people.
We saw ourselves through the eyes of the youngest around us: a perpetual mirror-effect between generations…
A giant hopscotch game made of metal pipes forms the set piece for the 5 acrobats in ETERNAL IDIOTS.
The tension between this innocent childhood game and the powerful metal bars symbolises the violent contradictions that adolescents face while growing up.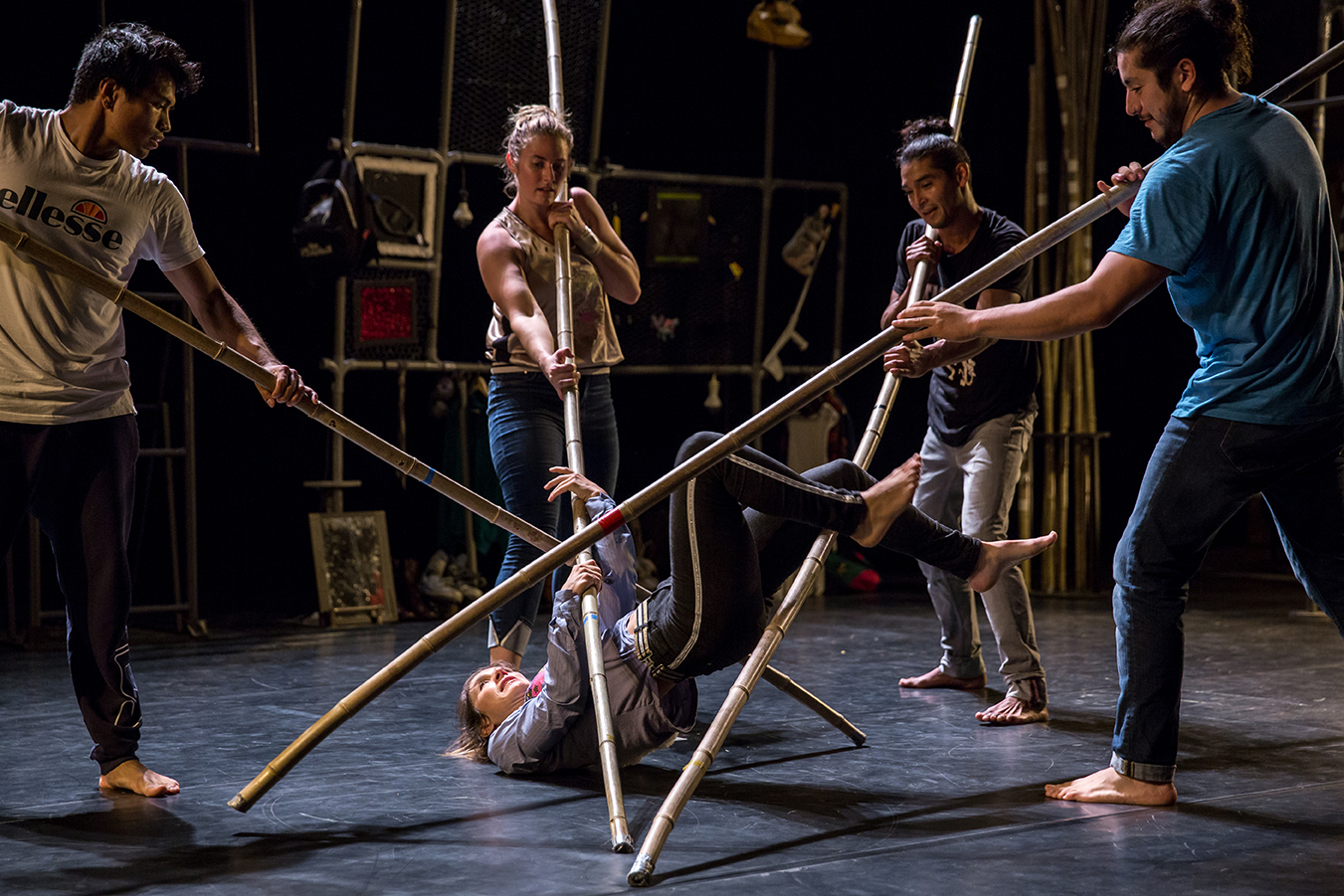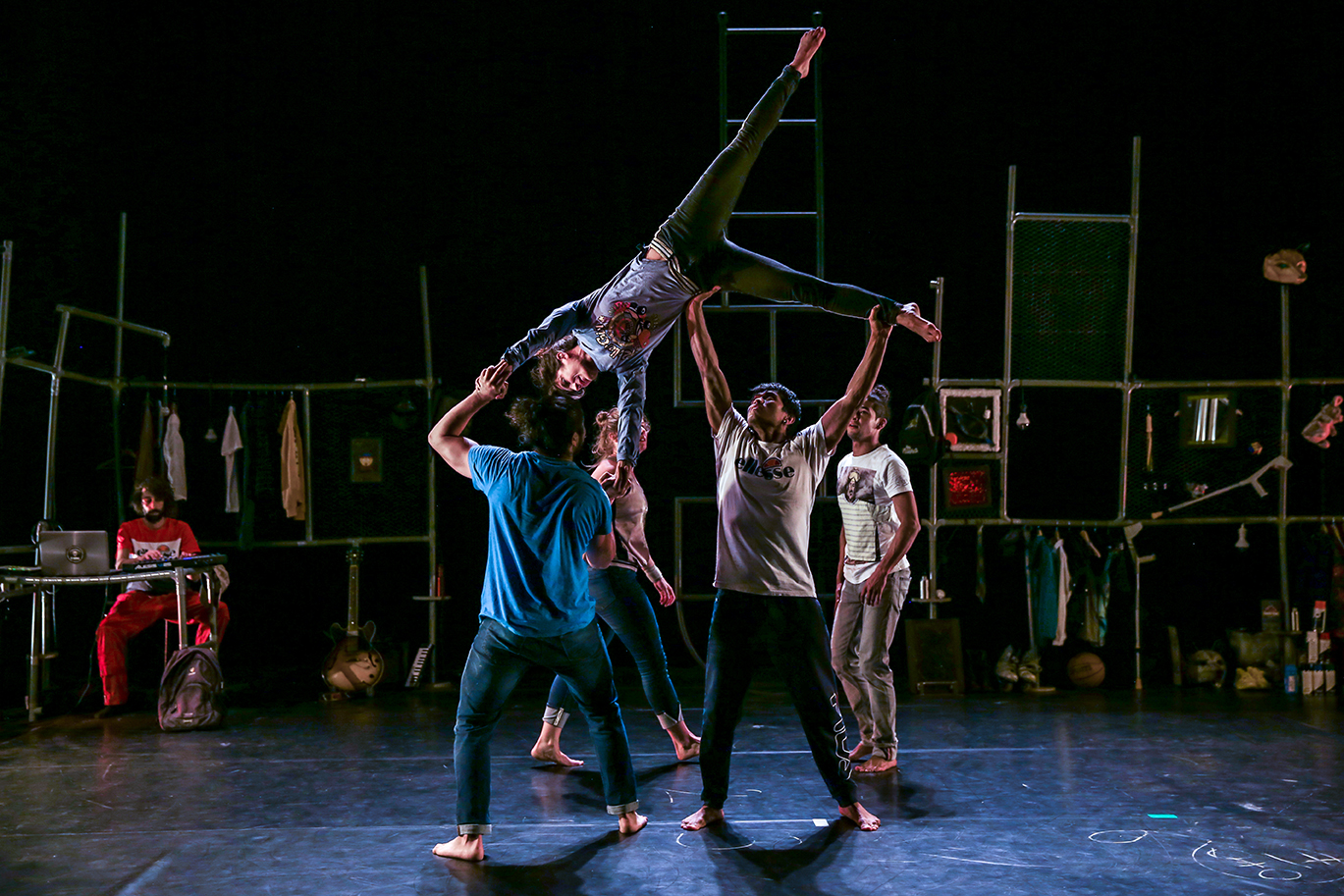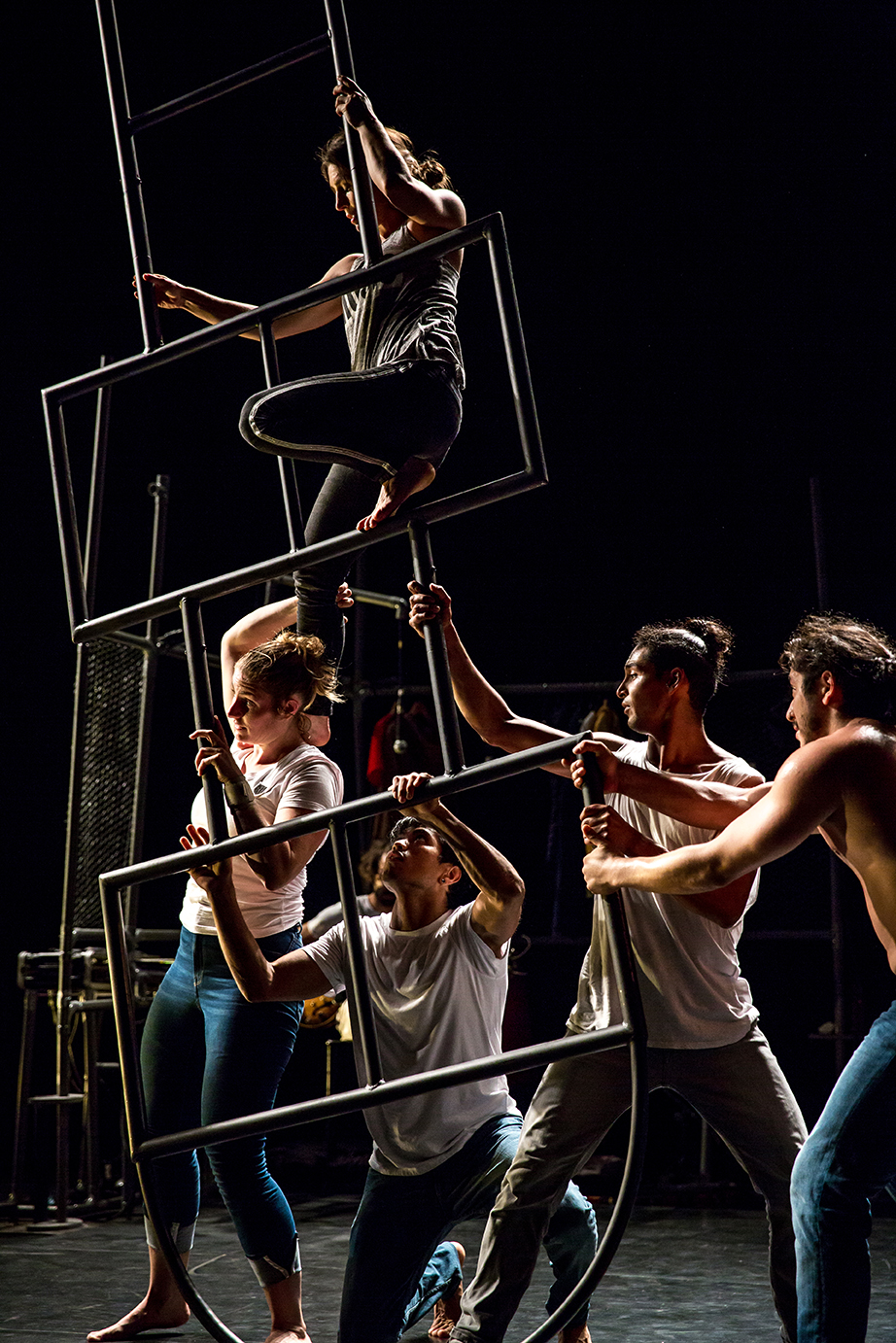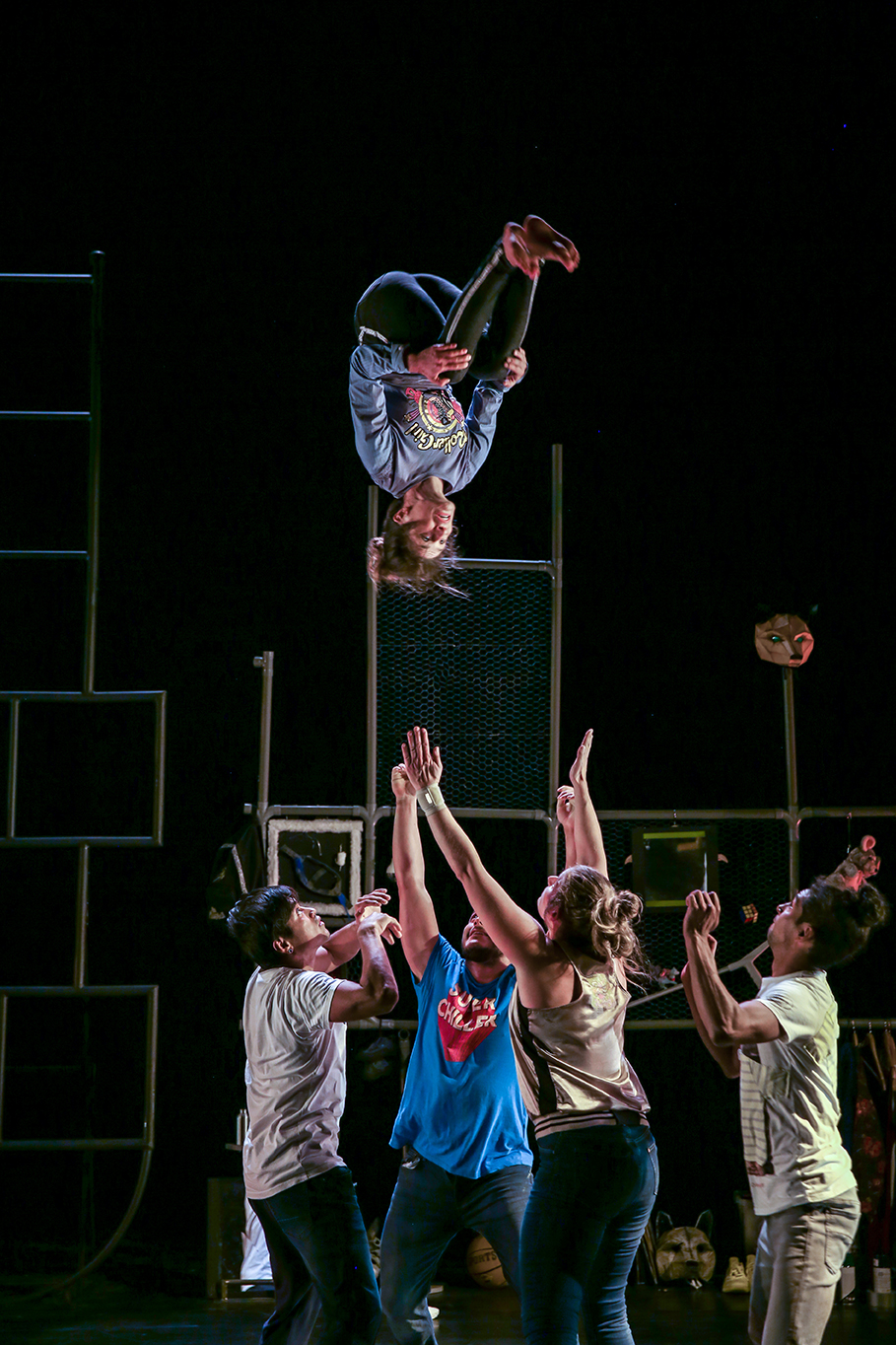 Premiere: 2019
Audience: 7 years + for public performances / 10 years + for schools performances
Running time: 65 minutes
Team
Directed by Edward Aleman and Sophie Colleu (Associate Director)
Author and Dramaturge: Ronan Chéneau
As for his solo piece INQUIETUDE ('RESTLESS'), Director Edward Aleman forms a creative team with Sophie Colleu as Associate Director and Ronan Chéneau as Dramaturge.
Performers Edward Aleman, Alexandre Bellando, Célia Casagrande Pouchet (or Birta Benonysdottir), Cristian Forero, Fanny Hugo (or Hemda Ben Zvi), Jimmy Lozano
Creative and Technical team
Set Design: Sylvain Wavrant
Production Stage Management: Laurent Lecoq (rehearsals & premiere), Zoé Dada (tour/technics) and Sophie Colleu (tour/logistics)
Music: Alexandre Bellando
Light Design: Stéphane Babi
Light Operator: Zoé Dada
Sound Operator: Marvin Jean
Hopscotch game designed and built by: Claire Jouet Pastré
Additional set building: association CPR - Ça Peut R'sservir ?
Costume: Marie Meyer
Touring company 6 performers + 2 crew + 1 Tour Manager Executive production
Executive production: Fanny Fauvel
Tour management: Mathilde Leclercq
Tour Administrator: Thierry Soto and Fanny Trujillo
Photo credits: Sylvain Frappat and Sophie Colleu
Production
An El Nucleo Company's production
Partners
Coproducers
L'Eclat, à Pont Audemer (76)
Le Piaf, à Bernay (76)
Le Carré Magique PNAC de Lannion (22)
La Verrerie, Alès (30)
Le Centre Culturel Pablo Picasso d'Homécourt (54)
Le Centre Chorégraphique National Roubaix (59)
L'ADAMI
With the support of
Le Cirque Théâtre d'Elbeuf (76)
L'Etincelle à Rouen (76)
La DRAC Normandie
La Région Normandie
Le Conseil Départemental de Seine Maritime
La Ville de Rouen
The El Nucleo Company receives support for all its activities from la Région Normandie (the Normandy Region) of France