2021
14 et 15 janvier : Le Nouveau Relax, scène conventionnée de Chaumont (52)
1 au 10 mai : Seoul Circus Festival, Corée - Dates à confirmer
22 mai : Théâtre La Renaissance, Mondeville (14)
23 mai : Festival Brikabrak, Le Bugue (24)
9 au 14 juillet : Festival Alba la Romaine (07) - Dates à confirmer
2020
3 mars : Théâtre Juliobona, Lillebonne (76)
31 mars : Le Nouveau Relax, scène conventionnée de Chaumont (52) - Annulé cause Coronavirus
9 et 10 mai : Seoul Circus Festival, Corée - Annulé cause Coronavirus

12 mai : Le Rayon Vert, Saint Valery en Caux (76) - Annulé cause Coronavirus

30 mai : Théâtre La Renaissance, Mondeville (14) - Annulé cause Coronavirus

31 mai : Festival Brikabrak, Le Bugue (24) - Annulé cause Coronavirus

3 juin : Café Musique L'Usine, Istres (13) - Annulé cause Coronavirus

6 et 7 juin : Festival Le Chapiteau Bleu - Tremblay-en-France (95) - Annulé cause Coronavirus

26 au 28 juin : Vivacité, Sotteville les Rouen (76) - Annulé cause Coronavirus

10 et 11 juillet : Festival Alba la Romaine (07) - Annulé cause Coronavirus

18 juillet : Ville de Falaise (14)
22 juillet : Les Renc'arts, Pornichet (44)
6 août : Les Virevoltés, Vire Normandie (14)
6 septembre : Les Rues en Scène, Saint-Thégonnec-Loc-Eguiner (29)
16 septembre : Ville de Chantepie (35)
18 septembre : Le Rayon Vert, Saint Valery en Caux (76)
6 octobre : Centre culturel L'Ilyade, Seyssinet Pariset (38)
30 novembre - 3 décembre : Café Musique L'Usine, Istres (13)- Dates à confirmer
2019
8 juin : Le CIAM, Aix en Provence (13)
9 Juin : Préalables du Festival d'Alba (07)
19 juin : Agglomération de Montargis (45)
5 juillet : Ville de Terrasson (24)
27 juillet : Festival Côté cour, Côté jardin, Bernay (27)
10 et 11 Août : La Hague (50)
7 et 8 septembre : Montfermeil - Ateliers Médicis (93)
16 novembre : Théâtre des Mazades, Toulouse (31)
Is this for real?
How many people are there?
Is that a boy or a girl?
What is it about?
Why don't I understand anything?
Is it beautiful?
What if we stopped asking a million questions and just let ourselves be amazed?
What if we let go and let ourselves dream?
Quirky and fascinating, RANDOM is both dreamlike and real.
RANDOM plays with our clichés, and the habitual way we see things…
Following the phenomenal success of SANS ARRET (NONSTOP) and the solo show INQUIETUDE (RESTLESS), RANDOM is part of El Nucleo's repertory, and is their third "all-terrain show".
RANDOM can be performed in a variety of locations, for audiences of 3 years and up. It is short and easily tourable with minimal technical requirements.
Its dramatic structure is based on surprise effects that playfully challenge the audience's expectations.
RANDOM is an "UCO" – an Unidentified Circus Object – that teases audiences and disorientates them with its nonchalance and virtuosity. The closing acrobatic number is breath-taking!!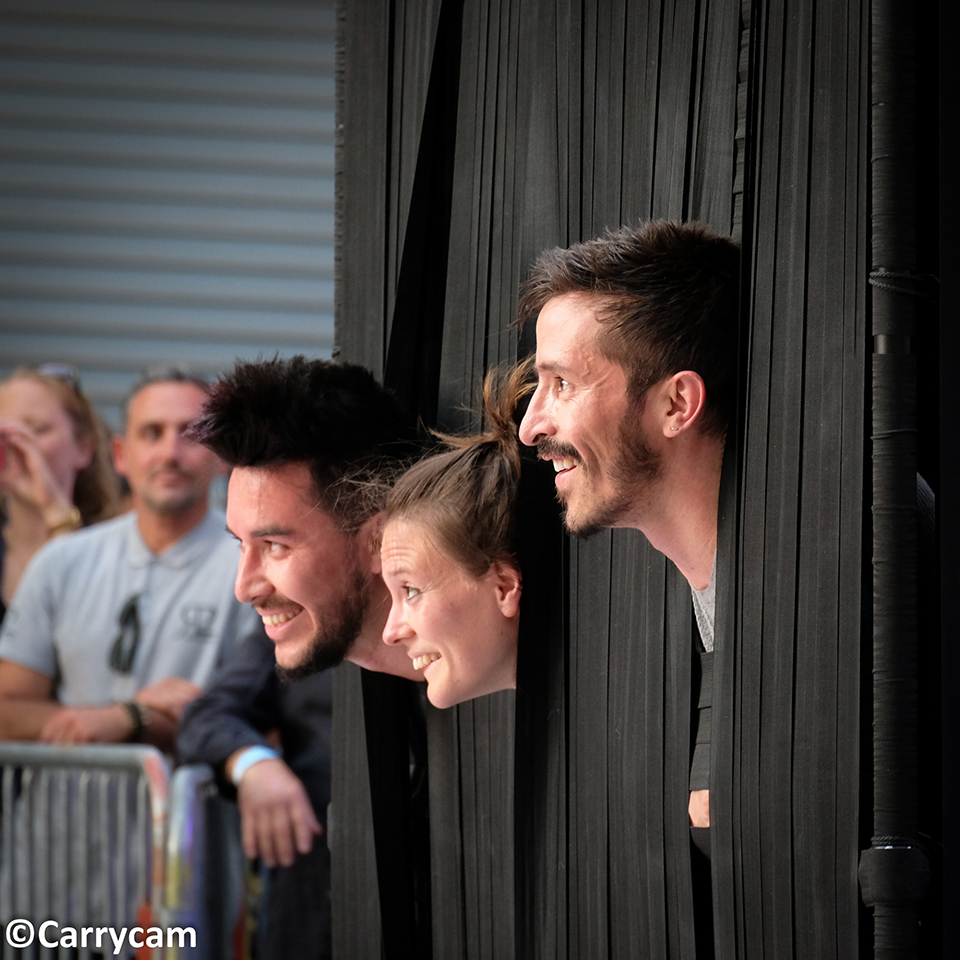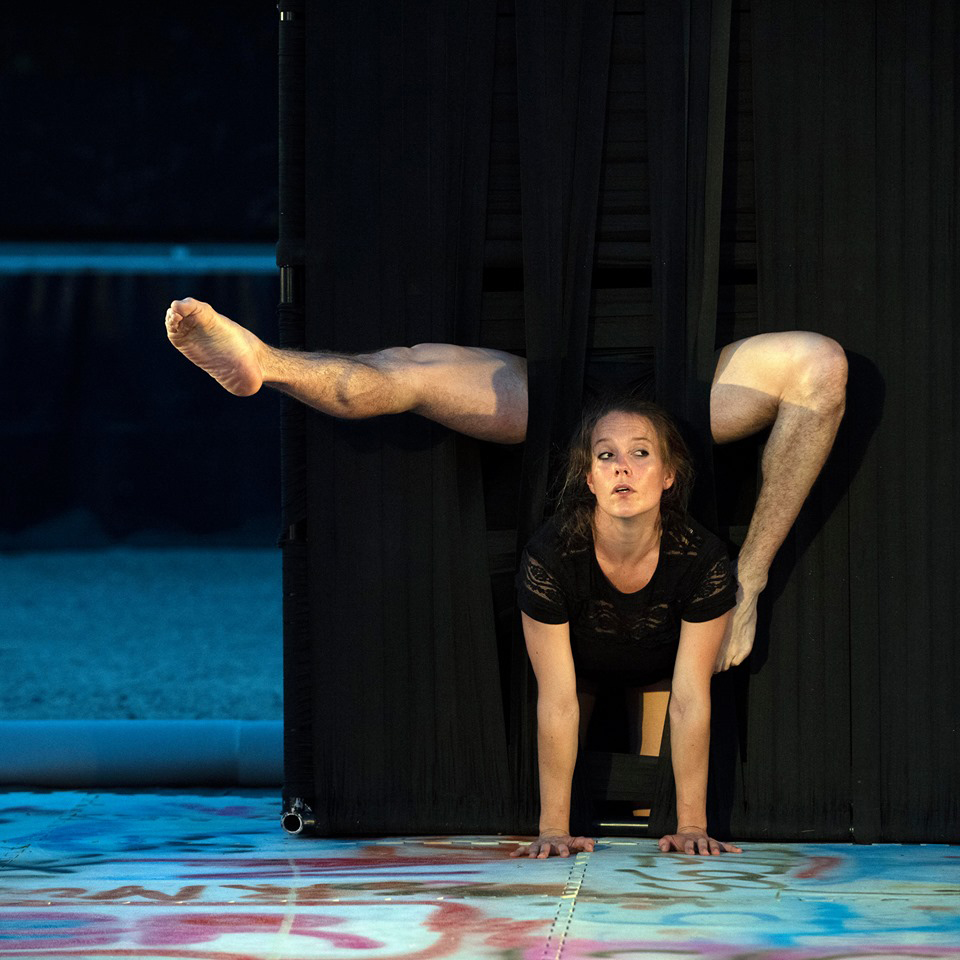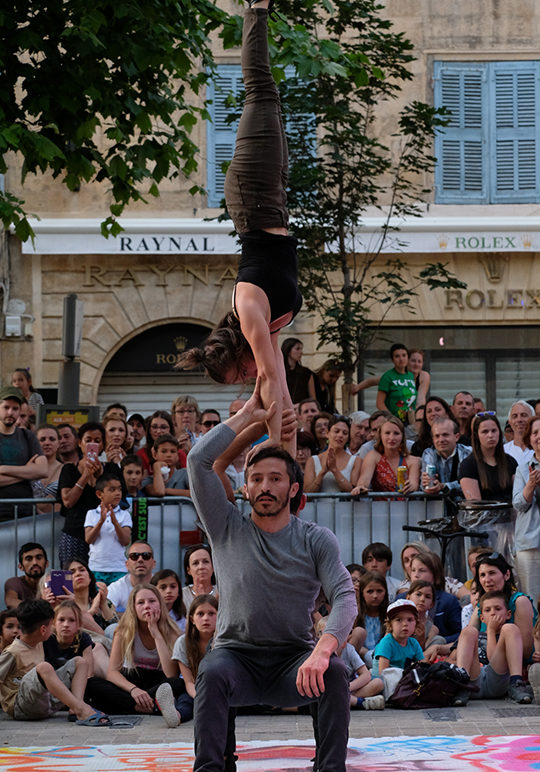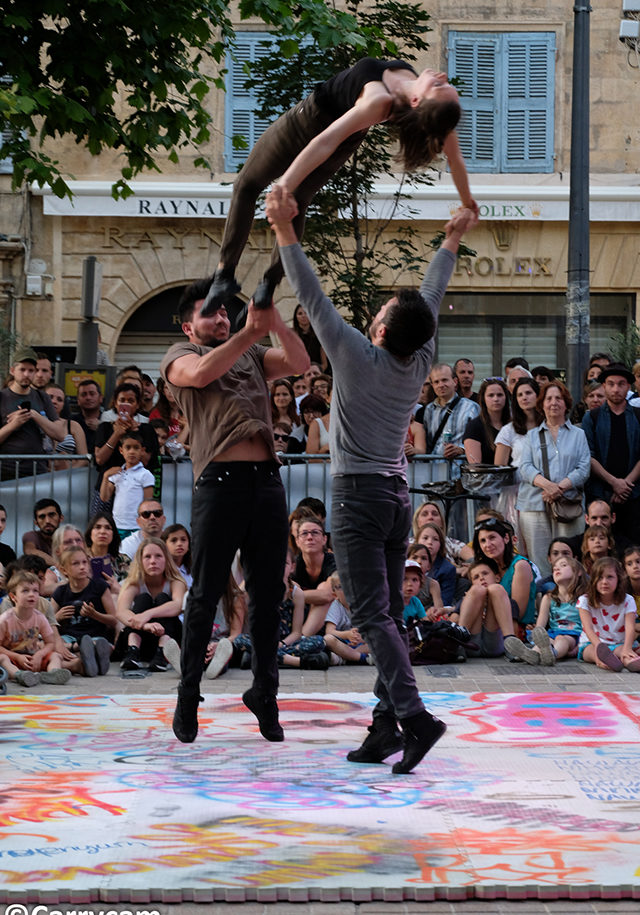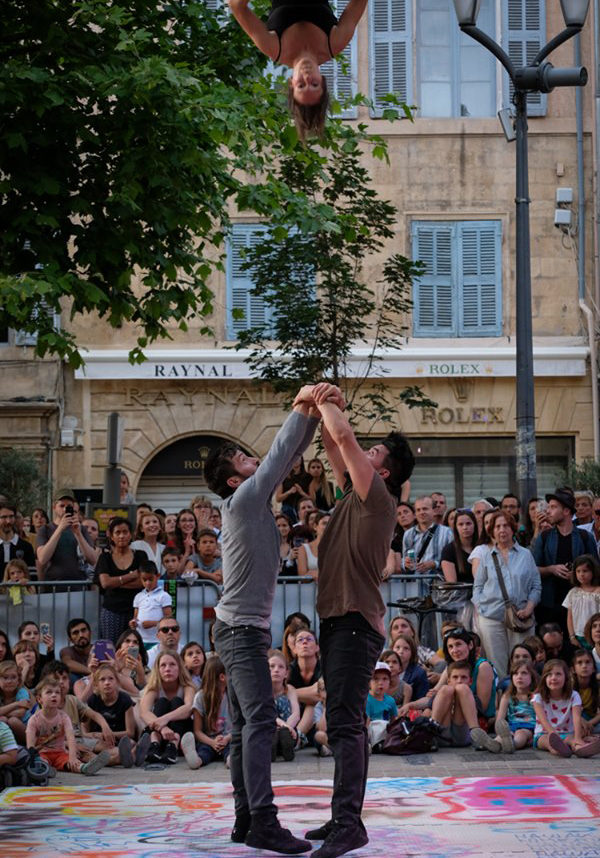 Premiere: 2017
Audience: 3 years + for public performances / 6 years + for schools performances
Running time: 45 minutes
Team
Directed by Wilmer Marquez
Performers
Camille de Truchis, Wilmer Marquez, Diego Ruiz Moreno
Technical team
Production Stage Management: Laurent Lecoq or Marvin Jean
Touring company
3 performers + 1 crew + 1 Tour Manager
Executive production
Executive production and tour management: Fanny Fauvel and Mathilde Leclercq
Tour Administrator: Isabelle Van Daele
Photo credits: Carrycam, Christian Loubradou, Sylvain Frappat
Partners
El Nucleo production
Coproducer
Les Ateliers Médicis, Clichy-sous-Bois (93)
With the support of
Le Piaf, Bernay (76)
Les 3T, Châtellerault (86)
The El Nucleo Company receives support for all its activities from la Région Normandie (the Normandy Region) of France